Written on December 2nd, 2009 by
Simon Slade
On Tuesday we released a new version of Traffic Travis, and as always this means good news for you.
Download the latest version now
First of all we addressed a few user reported bugs which included an issue with scores jumping around in the page analysis section, and a problem with retrieving Google ads.
Of course, we've also spread our wings wider with Google Italy now part of the growing list of search engines you can use (designer labels anyone?). We like to go faster too, so we have tweaked parts of Traffic Travis so you can now get results with improved speed. This applies to retrieving Google ads, and also to the keyword server. We will be using a larger and more accurate database for obtaining keyword suggestions and search counts which means the information is delivered to you faster.
And for all the geeks - here are the latest change logs
Version 3.1.14 Build 539
CHG :: Keyword suggest and count source
Version 3.1.13 Build 536
ADD :: Google Italy
FIX :: Issues score jumping on page anaylsis
FIX :: Validation errors on page analysis
ADD :: Allow extra info saved in se analysis report
FIX :: Not getting proper Google ads
FIX :: Improve speed with Google ads
FIX :: Getting Alexa traffic rank
Version 3.1.12 Build 529
FIX :: Fix Google Denmark
FIX :: Getting PPC ads
FIX :: PPC Schedule not working
CHG :: Allow user to enter proxy at registration
We hope you make the most of our latest version of Traffic Travis, it's there to help!
Download the latest version now
We will be back soon to deliver some more good news :)
Take care.
Kim
Traffic Travis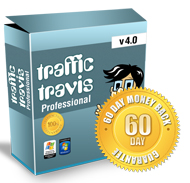 P.S. Are you using the Professional edition of Traffic Travis? While the free edition is packed full of valuable features, there is even more in the Professional edition and for a short time we are allowing you access to it for a $5 trial, access the trial here