Written on April 21st, 2010 by
Simon Slade
Hi guys,
Be sure to grab the latest version of Traffic Travis, V3.2.3.
In each new version we put a great deal of effort into sorting out bugs, improving functionality, and answering our users' needs. This version is no different!
The fixes we've done:
A bug in the SEO and PPC sections that made them appear blank on first click.
Backlink issues with inconsistent number of results.
The changes we've made:
We now use Bing's API instead of MSN Live.
The keyword finder now sorts by Google search counts rather than the order Traffic Travis found them.
We've improved the status updates displayed in the keyword finder process.
New to Traffic Travis:
In response to many requests, we now allow a username and password to be entered for proxy servers.
To get the latest version of Traffic Travis, open the software and click 'yes' when it asks if you would like to download the latest version. If you don't yet have Traffic Travis, download it here
We hope you enjoy our latest version :)
The Traffic Travis Team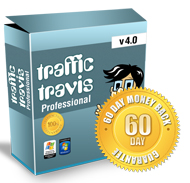 P.S. Did you know there is a Professional edition of Traffic Travis? While the free edition is packed full of valuable features, there is even more in the Professional edition and for a short time we are allowing you access to it for a $5 trial, access the trial here