Written on February 19th, 2015 by
Simon Slade
Some keywords have very clearly defined purposes. For example, if somebody searches for "free virus protection," you know both what they want and that they don't want to pay for it. But what does somebody have in mind when searching for a phrase like "website checker"?
A quick Google Images search shows us some of the many interpretations, such as programs that check website ranks, SEO, and more: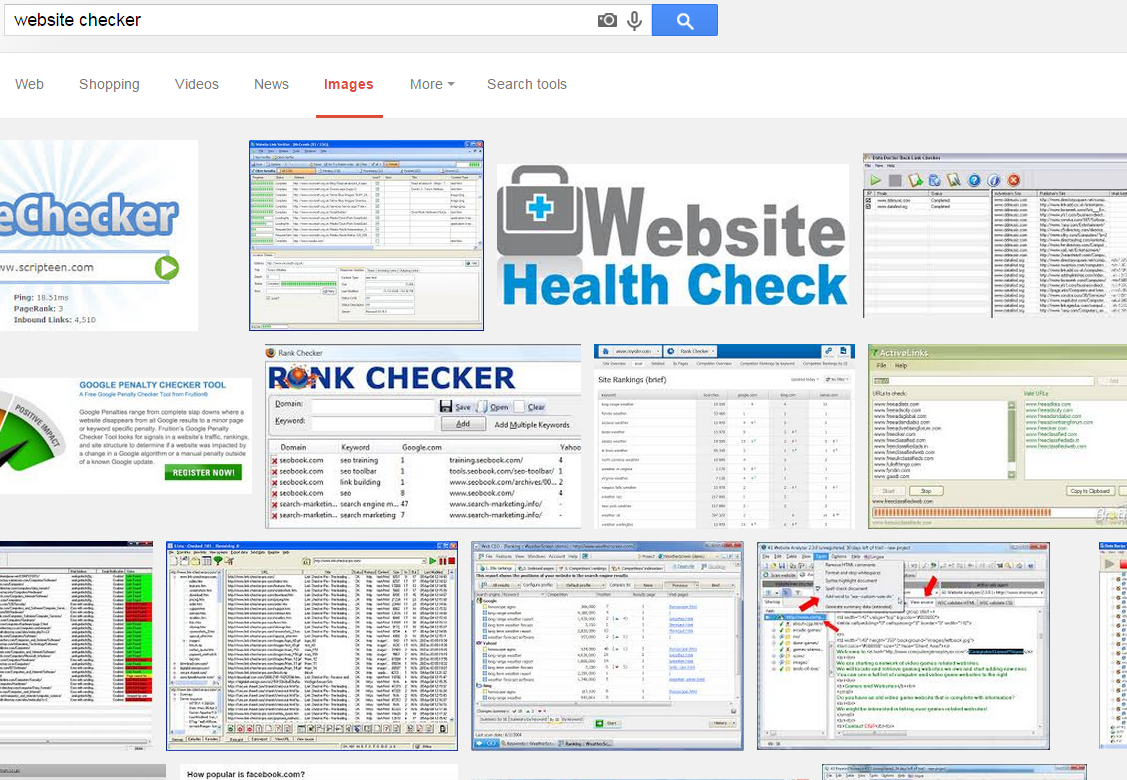 Since "website checker" can easily blend into many different sub-niches, it only seems fitting that we call it a "chameleon keyword."
The Pros and Cons of Chameleon Keywords
Chameleon keywords are unique because of their huge variety of potential meanings. For example, some people searching for "website checker" may be looking for SEO and ranking checkers, while others could be looking for a tool that measures a website's speed or identifies whether or not it's safe. They may even be looking for a plagiarism checker like Copyscape.
Chameleon keywords offer both challenges and opportunities for SEOs. You can use them to sell just about anything remotely relevant. This makes them rather alluring, as they often have extremely high search volumes and are easy to write articles about.
The downside is that websites in unrelated niches are competing for the same keywords. Worse, even if you succeed at getting onto the first page of the search results, you might develop a high bounce rate. After all, many visitors may have a different type of website checker in mind!
Now we know the risks of chameleon keywords. Let's weigh them against the potential rewards by taking a look at "website checker" and keywords in related niches.
"Website Checker" Gets Better Every Day
Ladies and gentlemen, I give you the Google Trends results for today's main keyword: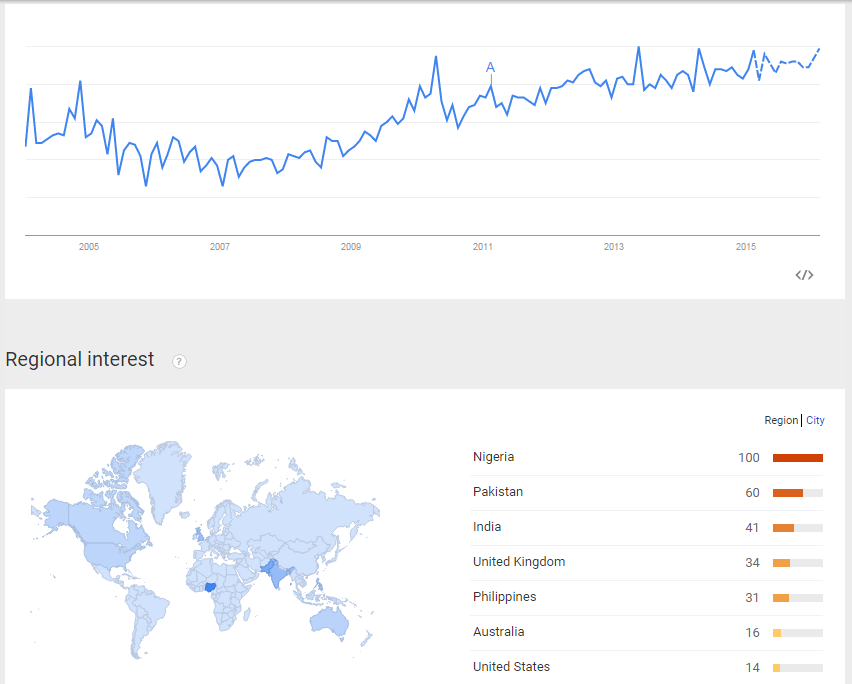 It looks like we can count on "website checker" to stick around for a long time to come. It has been trending steadily upwards since 2008. Spring seems like an especially good time for it, with record-high searches in April 2010 and May 2013.
From the looks of things, February 2015 may actually be the all-time best month for this niche yet! There's little doubt that it will provide anyone who can rank for it with profits for years to come.
The Good News ...
"Website checker" has 9,900 monthly searches and counting!

To sweeten the deal, it has low AdWords competition. However, we've seen even more tempting keywords turn out to be absolutely impossible to rank for in the past, so let's keep looking.
I absolutely couldn't pass over a keyword like "speed test." It has an ungodly high KEI—over 1.1 million, thanks to 11,100,000 searches per month!

With lower CPC costs than our main keyword, it may even have the advantage of being easier to rank for. Just keep in mind that it's a chameleon keyword in its own right. Searches might be looking for speed tests for their computer, their Internet connection, their website, their typing rate, or other things.
"Online virus scan" also looks excellent, with a KEI of 107 and 33,100 searches per month. It has a high CPC, but we have seen similarly expensive keywords for which people just seemed unwilling to try to rank organically.

That's all that the Traffic Travis Keyword Research tool can tell us about these phrases. Let's see what the SEO Competition module has to add.
... And the Bad
It seems I can never catch a break with the keywords that first grab my attention. Traffic Travis puts "website checker" at very difficult to rank for.

Nearly all of the top 10 results are the homepages of powerful authority sites. None would give up their positions easily. The only chink in their armor—and the only reason why this keyword is very difficult and not extremely difficult—is that none of them have optimized specifically for the phrase "website checker."

"Speed test" fared even worse. It has a rating of extremely difficult.

Still, I wouldn't ignore this one if you're a pro SEO. Some of the bottom six results look beatable. Even if you only received 1% of searches by ranking low on the first page, it would still be worth over 100,000 visits a month.

"Online virus scan" does not look much easier. In fact, seeing how well-entrenched the top 10 pages are, I would probably just ignore it. This keyword is only really worth going after if you have created your own virus scanner and believe it can beat the competition.


Here's one that looks a bit more manageable: "website SEO checker."

While it does have a rating of difficult, none of the top 10 pages have used exact-match optimization. If you use "website SEO checker" as your primary keyword, including it in a page's title, description and H1 header, then you might reach the first page of Google with a Page Authority in the low 20s.

So far, we've looked at the SEO, security and speed interpretations of "website checker." But it wouldn't be a chameleon keyword if it only had three colors! Here's an entirely different option: "website traffic checker."

This keyword has 1,600 monthly searches, and ranking for it would be similar to ranking for "website SEO checker." You could use it to sell anything that so much as incorporates Google Analytics functionality. Just be warned that you would have to beat Alexa itself in order to become result no. 1!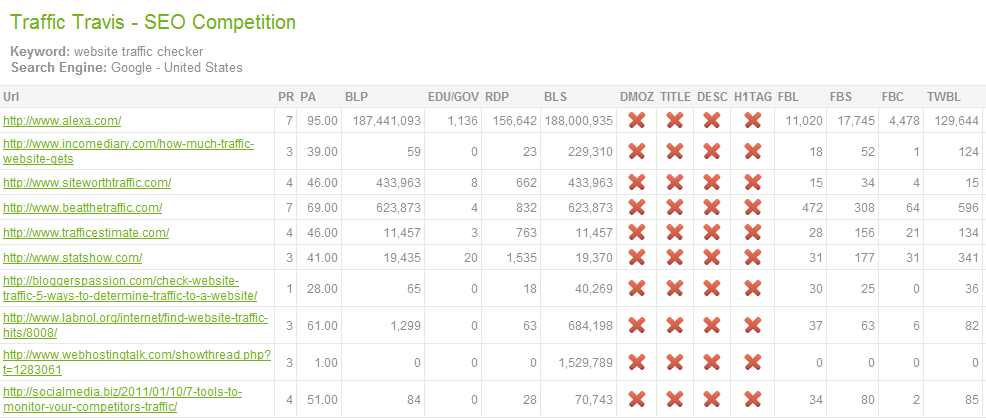 Are Chameleon Keywords Computerized Cthulhus?
There are a lot of disadvantages to using chameleon keywords. Their high competition and large proportions of non-targeted traffic make them easy to vilify. Yet that doesn't mean they should be ignored.
Despite their flaws, keywords like "website checker" can still be worth the effort. With so many searches, so many thousands of people looking for answers on these subjects, you may well get a fair share of traffic even if you don't rank on the first page of Google.
I would not build a site on a foundation of chameleon keywords. You should certainly focus on targeted, easy-to-rank phrases unique to your specific sub-niche to get the best results. With that said, though, it probably won't hurt to have a few colorful lizards in the mix.
Want more info? Download my keyword research here and follow these instructions to upload it into your own copy of Traffic Travis.