Written on September 9th, 2013 by
Simon Slade
Link building is the lifeblood of effective off-page SEO. You can tweak your on-page SEO all you want (with the guidance of Traffic Travis of course!) but you will still need to direct quality links back to your site to break through to the top of Google. In this blog post you are going to discover three effective white-hat link sources that Google loves.
"White hat" (or "whitehat") is a term we use in the SEO realm to refer to practices that have the following characteristics:
Ethical and non-duplicitious
Human-focused
Follow the rules (namely Google's Webmaster Guidelines)
Strong emphasis on long-term improvements and stability
Whitehat link building therefore relates to ethical and honest practices for building backlinks to your website. Fundamentally, whitehat link building is all about quality over quantity.
Without further ado, let us explore three of the most effective sources of white-hat links.
YouTube Backlinks for SEO
According to Alexa, YouTube is the third most popular website in the world. There is an entire subset of the SEO industry dedicated to cracking the "YouTube code," especially the formula (if it even exists at all) for getting videos ranking well within YouTube search and for external keywords on Google search. Remember that Google owns YouTube, so they are likely to give a lot of weight to the links you can build on it.
Video Description Links
The most common form of whitehat link building on YouTube is adding video description links, such as this: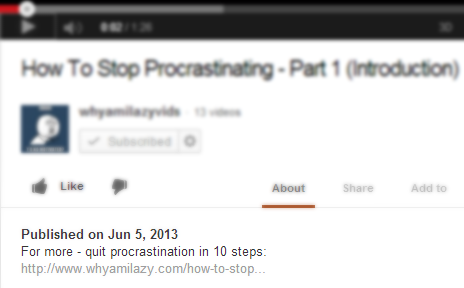 Whenever you upload a video to YouTube you have the opportunity to enter a video description. Within your video description you will want to add the link to your website as a "naked URL" (e.g. http://www.traffictravis.com—there is no option to add anchor text). Although traditional SEO orthodoxy dictates that naked URLs are inferior to anchor text links, they actually have some advantages in the post-Penguin world. In particular, incorporating a reasonable number of naked URLs from quality whitehat sources into your link profile will help reduce your chances of being penalized for over-optimization.
To get the most out of your YouTube description links, you should follow these best practices:
Include your primary keyword in the video description
Try to write at least 100 words, as there is some evidence to suggest that longer descriptions perform better in the search engines
Deep link to a naked URL (don't make all your links point to the homepage of your website; find an internal page relevant to your video and then use that page's link)
YouTube Channel Backlinks
When you first create your YouTube account you have the opportunity to create a "channel." Optimizing your YouTube channel for search performance is a very deep subject, so I suggest that you consult YouTube's official guidelines to get started. However, in terms of delivering quality whitehat links, you can simply navigate to your channel and select "add" to add a new link:

I suggest adding your primary keyword or brand name as the link description (aka anchor text) and then a link to your site's homepage. You can add multiple links to your YouTube channel, but ensure that your most important link appears first.
High-Quality Guest Posting
Another source of ethical white-hat backlinks is quality guest posting/blogging. I'm sure you are already familiar with guest posting, which is where you get a piece of content published on someone else's blog in exchange for links and exposure. This linking strategy has become a go-to for many webmasters and bloggers, and I wouldn't be surprised if you have already tried it yourself.
Understanding Google's (Potential) Crackdown on Guest Posting
It seems a little disingenuous of me to suggest guest posting as a white-hat linking source, and then segue right into talking about how Google might soon start penalizing certain forms of it, but hear me out. Google has recently updated their guidelines to discourage mass guest posting, especially any form of it that is facilitated by some kind of automated system or marketplace (read here for a thorough analysis of the subject). However, authentic, high-quality guest blogging still has a role to play in your link-building arsenal.
Here's how you can step up your link-building game with effective guest posting:
Focus on quality over quantity. One guest post on a true niche authority blog is better than a dozen guest posts on blogs of ill repute.
Claim fresh territory. Keep an eye out for quality blogs with very few guest posts and contributions. These are going to give you more bang for your blogging buck.
Avoid using over-optimized anchor text in your guest post links. Use brand anchor text and naked URLs instead.
Treat guest posting as a brand-building exercise. Think about it as a process for expanding your market reach, as opposed to simply getting links back to your website.
Avoid reciprocal guest posting arrangements. We already know that reciprocal links are inferior to one-way links, so don't even bother guest posting on the proviso that the other blogger gets to put something on your website.
Ensure you add value. In my opinion a sizable majority of guest posts don't actually add anything of value, and it's clear they are cynical link grabs. Treat other peoples' audiences just like you would treat your own by providing exceptionally valuable content.
If in doubt, don't be afraid to "no follow" your links. According to some search gurus, adding the "no follow" attribute to guest post links will help safeguard you against any potential ramifications if Google does ever decide to wage all-out war on guest blogging. I'm not sure if this will ever happen, but if you like to play it safe, then consider adding no-follow attributes to your inbound links and focus instead on building your brand with guest posts.
Google might not like mediocre guest blogging, but if you focus on the upper echelons of this link-building realm, then you will reap some impressive rewards.
Link Baiting
The final whitehat link source we are going to cover in today's post is link baiting. In the strictest sense it isn't actually a source of links; it is merely a method for generating them. However, when done correctly, there is nothing more effective than link baiting for improving your rank in the search engines. Link baiting is using any content or feature on your website to attract attention from third parties, build social buzz and get people linking to you.
Examples of link bait include:
How to Get Started with Link Baiting
Right now you're probably thinking "link baiting sounds great, but how can I get started without already having a big presence?" The good news for you is that you can make your first foray into the exciting world of viral organic link building in just a few easy steps:
Identify something in your niche that people really need or want. This could be an informational resource, entertainment, software, a tutorial video ... the possibilities are practically endless.
Create that "thing" that people want. Put your heart and soul into it, as the higher the quality and value is the more likely people are to share it.
Add your link bait to your website, and do an internal promotion with your email list, social media accounts etc.
Get on your personal social media accounts and ask your friends, family and colleagues to help you out by sharing your epic creation (if they have blogs or websites and can give you a link, then even better).
Contact influential bloggers and social media users in your niche. Be upfront and tell them you have a blog post / infographic / whatever that is relevant to their audience, and politely request that they share it with others. Be prepared to experience a large number of rejections, but remember that the wider you cast your net the more fish you will eventually catch!
Write and submit press releases and submit them to free PR sites (or paid ones if you have the budget). This is especially effective if you have created some form of tangible good, such as a software program.
Consider using paid promotion methods, such as Facebook ads and Adwords, in order to gain more exposure.
Ensure that you make it EASY for people to share your link bait with their social networks. Almost all successful link bait has done so.
Remember that the whole purpose of link bait is to make something so awesome that other people cannot help but link to it. This is the pinnacle of ethical white-hat link building, because you are not creating links per se. Instead, you are simply creating the right conditions for encouraging organic link building.
Conclusion
White-hat link building might seem like a hard task upon initial examination. I'm the first to admit that it's much easier to fire up a black-hat software program that can build hundreds of automated links on autopilot, or to pay someone $5 for thousands of generic blog comments. However, unethical link building is going to bite you in the ass in the long run. By focusing specifically on white-hat link building you can ensure that your website will continue to enjoy growth in its search engine status, as opposed to being relegated to the doldrums of the Google sandbox. Incorporate the three link sources I have shown you today, and you will see effective (and ethical) results.
At the same time you need to remember to match your link-building efforts with effective on-page SEO. You must strive to make your website a holistically attractive package for Google, rather than focusing all your efforts on any one area. Traffic Travis will help you make the most of your link-building efforts by enabling you to tweak your on-page SEO to work in perfect harmony with your off-page SEO. Import your website into Traffic Travis and you'll unlock a list of on-page SEO tweaks that will help you improve your rankings. I also suggest using Traffic Travis to find relevant keywords to target with your YouTube videos, guest posting, and link bait.
Go here to download Traffic Travis for free and take your SEO to the next level.