Written on February 1st, 2011 by
Simon Slade
Hi guys,

We've got a new version of Traffic Travis for you! This one's just another bugfix release:
Fixed an issue with the reported rank position in Yahoo search
Fixed the reporting of websites in the DMOZ
Fixed a bug where anchor text that contained commas would break exported CSV files
Fixed a bug where URLs containing backticks weren't properly encoded
To get this latest version of Traffic Travis, open the software and click 'yes' when it asks if you would like to download the latest version. If you don't yet have Traffic Travis, click here to download it!

Enjoy!

The Traffic Travis Team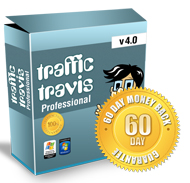 Did You Know:
You can try a no-obligation 7-day trial of Traffic Travis Professional Edition for only $5? It comes with even more helpful features to help boost your SEO and save you time and money! Click here to find out more!