Part 4: How To Build Links Using Traffic Travis
Now that you understand why links to your site are important, it's time to learn how exactly to build those links and get the results you're going after.
It's important to note that Traffic Travis can't actually go out and build links for you. There are a wide variety of link building programs out there, but we feel it's best to build your links yourself, especially when you're first beginning.
Traffic Travis doesn't build links for you, but it does find high-quality link opportunities for you to take advantage of.
In this issue of our newsletter, we'll cover:
Using Traffic Travis to find high quality link opportunities.
Discovering where your competitors get their links.
Getting links from blogs and blog commenting.
Getting links from forums.
Directory submissions.
Article Marketing.
A gigantic master list of bonus link-building techniques
Using Traffic Travis to Boost Your Link Building
Traffic Travis is a collection of many tools that give you amazing link-building insights and help you really ramp up your efforts.
First, you can use Traffic Travis to actually find link opportunities for keywords you want to rank for. Rather than having to manually trawl the Internet for possible links, you can save a lot of time using the Link Finder.
Open the Link Finder by clicking the SEO tab of Traffic Travis. You should also open up the advanced settings. This will allow you to pick more potential link sources, like blogs, forum guest posts, resources, and directories. Take a look at this: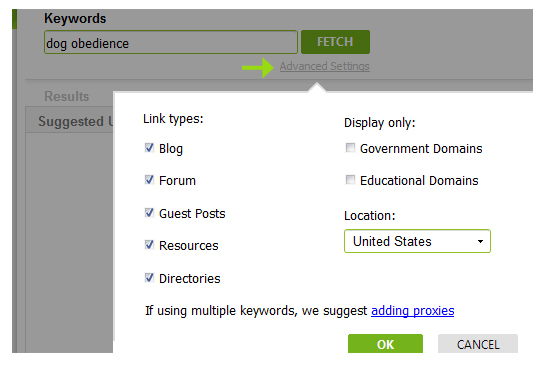 If your keyword is 'dog obedience', like in the example above, Traffic Travis will return potential links that are suited to this keyword.
You can see the Traffic Travis Link Finder at work below. Notice that you can also learn the PageRank of potential links, how many other links are on that page, and the Page Authority of the page (the higher the page authority, the better).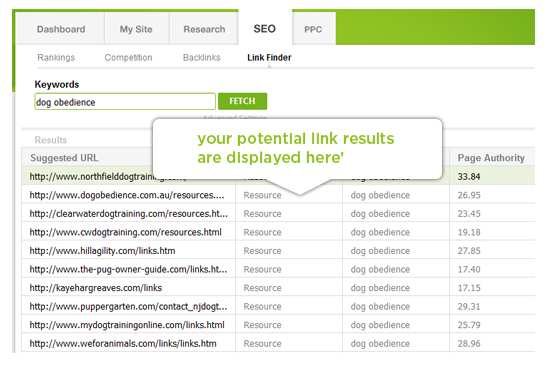 Another neat thing you can do with the Traffic Travis Link Finder is locate government and educational (.gov and .edu) link opportunities.
Google trusts educational and governmental sites much more than other sites. By building these highly coveted links, you'll be putting a giant feather in your link-building cap.
To locate .gov and .edu links, simply open up the advanced settings of the Link Finder tool and check the Government Domains and Educational Domains boxes: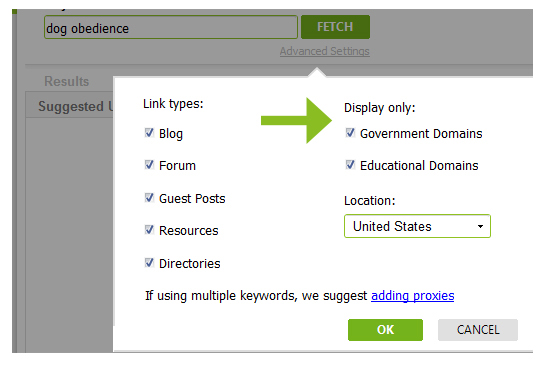 Steal Your Competitor's Backlinks
If you think what you've seen so far is cool, prepare to have your mind blown.
Hands down, THE most powerful link-finding strategy you can use in conjunction with Traffic Travis is actually finding the backlinks your competitors are using.
Remember how we talked about link building being like you and your competition running from a bear? You don't have to be faster than the bear, just faster than the other guy.
By figuring out where your competition is building links, you can go out and create links there as well. Combined with the other links you build, you'll match and then exceed your competition quicker than you think.
Take the keyword you are trying to rank for — in the example below, it's "dog training problems" — and plug it into the Competition tool in the SEO tab of Traffic Travis. Hit Analyze. After Traffic Travis has worked its magic, click "View Details."
You'll see a page that gives you the top 10 results for that keyword. You can see the PageRank, number of backlinks to both the page and site, and how many .edu or .gov links the page has. For now, we want to focus on the top-competing result (the one that shows up first on Google).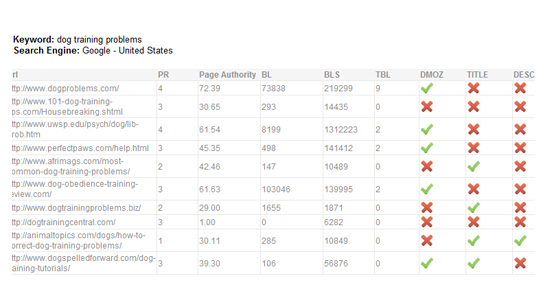 What you do then is copy the URL of the number one site for that keyword into the Backlinks Finder of Traffic Travis (available under the SEO tab).
In the example below, you can see a list of the links that the top site for the keyword "dog training problems" has.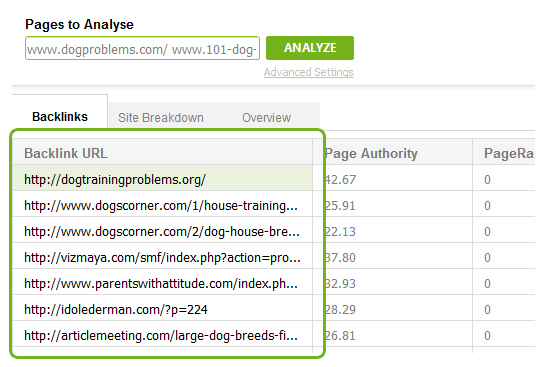 To do as well (or better) than your competition, you need to have a very good idea of the number of backlinks you need, as well as a very good idea of where to get those links from.
Where to Get Links
Now that you have an understanding of the links your competition has amassed, it's time to go out and make your own.
As we've discussed before, you should use your competitors' backlinks as a guide to which links you should build. By mimicking their backlink profiles, you will negate those links in a sense, and get even closer to outranking them.
But you can't just copy their efforts and expect to beat them. At some point you have to exceed their link-building efforts. There are many places to get links from, but we're going to discuss some of the higher-quality sources.
Getting Links from Blogs
Blogs are a fantastic source of links for your site. They are often frequently updated by their owners and can sometimes have quite high PageRank.
Blog Commenting

The easiest way to get links back to your site from blogs is to use what is known as "blog commenting." At the bottom of most blog posts you will find a comment submission form, like the one pictured below:

You can leave a useful and insightful reply or question to the original blog post, and then add your website address in the "Website" field. Some blogs will also allow you to add anchor text links in the body of the comment, although you will have to check other comments to see whether this is possible.

Remember: Don't spam the comments. Not only is it not fair to the blog owner and the readers, most blogs moderate their comments and you won't end up getting the link. Your goal here is to add value to the blog post, not just get a link. Comments like "Great post" are pointless and do nothing for the readers, the blog owner or you.

Put a little thought into it and leave a good comment and you'll find that you'll build links very quickly.

Guest Posting

Another way you can get links from blogs is to guest post.

This means that you write an article or post for the blog owner, which he or she then posts on their blog. Inside your article you can add an anchor text link or two back to your website.

The easiest way to do this is to contact blog owners in your niche and offer them a free, quality article for their site — on the proviso that you get to include at least one link back to your site.

WPMU has a great guide to guest posting on blogs to build links (and visitors) to your site.
Forum Posting Links
Forums, also known as discussion boards, are places online where people meet to talk about a particular topic. If you are a regular Internet user you may already participate in an online forum. They are also great places to build backlinks to your site.
The most common method of building links to your site from forums is to add your website address to the signature file of your profile. This way, whenever you comment on a discussion (also known as a thread) your link is posted automatically.
Here is an example of a typical forum signature and signature editor: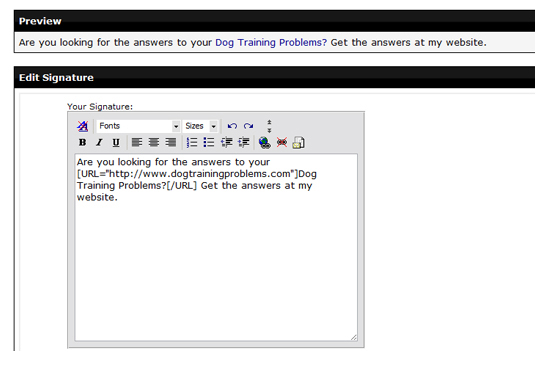 You can also write a useful reply to a discussion thread and include your link at the end of your message. This is useful for forums that do not allow clickable links in the signature.
When forum posting and commenting for backlinks, it is important that you:
Follow the rules of the forum.
Make a useful contribution to the discussion.
Do not try to spam your links all over the forum without adding value first.
Directory Submission for Links
Submitting your website to a directory of sites is a time-tested and popular way of getting links.
There are numerous directories online, both free and paid. When starting out it's better to focus on some of the bigger free directories. Don't waste your time with the numerous spammy directories that really only act as "link farms," full of links to poor-quality sites.
Probably the highest quality free directory is the Open Directory Project, also known as DMOZ. It has a PageRank of 8, so if you can get your site listed in there it's well worthwhile.
Read this guide to DMOZ directory submission to learn how to increase your chances of being accepted.
For a comprehensive list of free directories go here.
Article Submission for Links
Another great method of building links is to submit content to article directories. In exchange, you usually get to place a link or two in the resource box of your article. This comes at the bottom of the page and will allow readers to click through to your site.
For example, if you wrote an article about "German Shepherd training for beginners" then you could have a resource box that says something like Want to know more about how to train your German Shepherd? Visit my German Shepherd training resources.
And remember, you want to make sure the anchor text of your link include the keyword you are trying to target.
There are literally hundreds of different article directories online, and it would take countless hours to submit to all of them. But really, you should focus on the big names listed below, because they will give you the best results:
Ezinearticles.com
Goarticles.com
Articlesbase.com
Infobarrel.com
If you need more, check out this comprehensive list of article directories (and Web 2.0 content sites that allow you to submit content) ordered by Google PageRank.
Bonus List of Link Building Tactics
The world of link building is in constant flux. While there are tried-and-true methods like the ones listed above, new tactics are developed all the time.
While it's impossible to list every link-building tactic here, we have compiled a huge list of ways to build high-quality links on our blog. Check them out here!
To recap, we have covered some very powerful link-building strategies in this issue. They were:
Using blog commenting and guest posting to get links.
Forum commenting for link building.
Directory submission to generate links.
Article directory submission for link building.
Using Traffic Travis to help you find link opportunities, find high PR links, and discover the backlinks of your competition.
The importance of building links to your site cannot be understated. Follow this guide and use Traffic Travis and you will be well on your way to higher search engine rankings.
In the next newsletter, you'll learn how to keep track of your results and make sure you are heading in the right direction.
Wishing you every success, till next time,
Traffic Travis
Did you know?
When you upgrade to the Professional Version of Traffic Travis, you also get a step-by-step link building plan from one of the world's best link-building experts.
You'll also get a detailed breakdown of more than a dozen link-building techniques, as well as getting the inside scoop on paying for links.
Traffic Travis Professional v4.0