Part 5: How To Track Your Search Engine Rankings
One of the most important steps in achieving online success is monitoring your search engine rankings.
By consistently tracking your rankings, you'll be able to see how your efforts are paying off and adjust your campaigns accordingly.
Traffic Travis is an awesome tool for providing you with accurate and easily accessible stats about your site, which will allow you to track your progress and troubleshoot any potential issues.
Here's what we'll cover today to help you track your rankings like a pro:
Using the Traffic Travis Dashboard.
What the best 'metrics' are to track your progress.
Different ways you can monitor your site from within Traffic Travis.
The importance of the long-term trend versus the short-term trend.
First Things First
There is no way that using Traffic Travis can hurt the rankings of your website.
While it may kill your productivity and be indicative of some form of obsessive compulsive disorder to check results constantly, your rankings won't get dinged for it.
If you see fluctuations in your ranking, or pages going up and down in the results, don't panic. This is common and a normal part of search engine marketing.
Using the Traffic Travis Dashboard
In Part 2 of the newsletter series, you learned how to import websites to the Traffic Travis Dashboard.
This tab provides you with a clear overview of important website statistics, including:
The Page Rank of your site.
Alexa Traffic Rank (this is another way of ranking the importance of a website).
How many pages you have indexed in the search engines you picked.
Your highest-ranked keywords.
How many backlinks you have, and whether that number is increasing or decreasing.
How many unique domains are linking to your site.
What Metrics Should You Focus On?
There is no shortage of metrics in SEO and Internet Marketing that you can track.
Some of the most common include:
Number of visitors to your site.
Conversion rates (how many people click, download or buy).
Search engines rankings.
Number of backlinks.
The problem, actually, is that there are too many metrics and a whole lot of information available to you. You need to focus on tracking, monitoring and reacting to the right metrics.
At this stage, your main focus should be on your rankings for particular keywords. You want to be getting your pages ranked highly for the keywords you chose.
You can use Traffic Travis to easily monitor your rankings for any keywords. To do this, you will have to load your site as an active project (remember that you can pick this option from the drop-down box in the top right corner of the screen).
By pressing the "SEO" button, then clicking "Rankings," Traffic Travis will generate a list of site rankings for the keywords you chose when you made the project. Here is an example of this in action: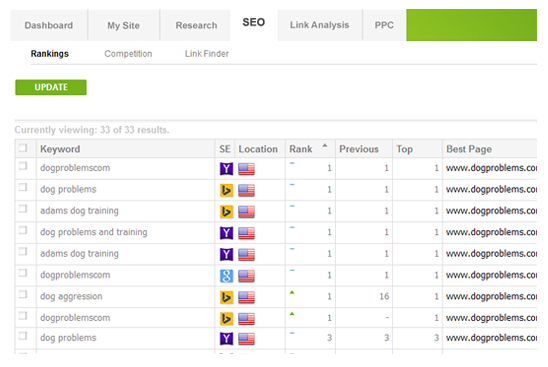 If you want to track more keywords, just head back to the Dashboard, and under the keywords section click the "Add More" button.
Add any keywords you would like to start tracking, and you will be able to check your ratings for them as well.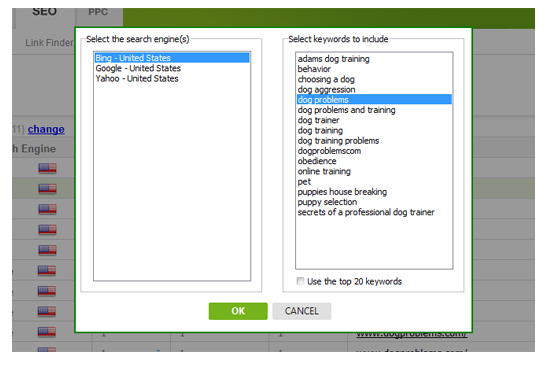 Here's a little trick you can perform with Traffic Travis to get a visual display of how you are doing for a particular keyword.
From the "SEO" > "Rankings" section of Traffic Travis (this is where you got to see how your site is ranking for the keywords you selected) you can click on the "View/Compare" option under "Ranking History."
Select the search engines you want to chart your rankings for over time, as well as the keywords. In this example, let's pick "Google - United States" as the search engine, and "dog problems" as the keyword.
Press the OK button and you will get a graph of your ranking over time for the keywords you have picked.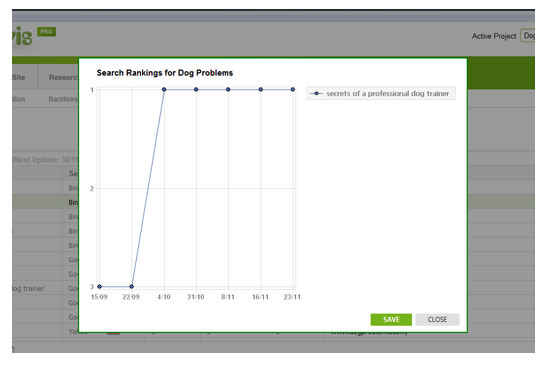 This is a great way of using Traffic Travis to see how your rankings are improving over time.
Tip
You can use Google Analytics and Google Webmaster Tools to help track which keywords are delivering the most traffic to your website.
Google Analytics requires you to install a small piece of code on any pages you want tracked, but it's worth the effort for the detailed traffic and user statistics you can get. You will even get data on where in the world visitors are coming from, how long they spend on any page, what devices they used to access your site and much more.
Google Webmaster Tools will also help you to uncover the top search terms being used to reach your website. So if you are getting traffic from terms you hadn't even thought about, you can see this and then spend some time targeting these terms specifically.
You will be surprised at how people find your site and what long tail keywords you rank for. By mining these sources you'll find plenty of keyword opportunities you never thought about.
Keeping track of where your traffic is coming from is just as important as knowing what keywords you rank for in the search engines.
If you ever get stuck using these tools, Google provides very straightforward instructions for using these free services.
The Importance of the Long-Term Trend
Patience is a virtue and nowhere is this more true than in the world of SEO and website promotion.
While tracking your results, it is important that you focus on the long-term trend, and don't get distracted by short-term fluctuations.
If you expect overnight results, you will be frustrated, especially when trying to rank for competitive keywords. You should focus instead on how your site's rankings are improving over the long-term. Expect results over weeks and months, rather than hours or days.
Your pages might gain or lose places in the search engines on a daily basis. One day you're on Page 1 of Google, and the next day you are on Page 3 for no apparent reason. This is often called the "Google Dance" and is a common occurrence.
But if you're emotionally invested in these short-term fluctuations, you're going to go crazy, lose motivation and possibly overreact. Just like fitness professionals caution clients to not weigh themselves every day, you shouldn't check your rankings everyday.
This makes the Traffic Travis Rankings tool very useful. As we've seen above, it allows you to create accurate charts of your rankings over time, so you can see that long-term trend develop.
Here is an example of a chart generated by Traffic Travis that shows a long-term trend of improving ranking: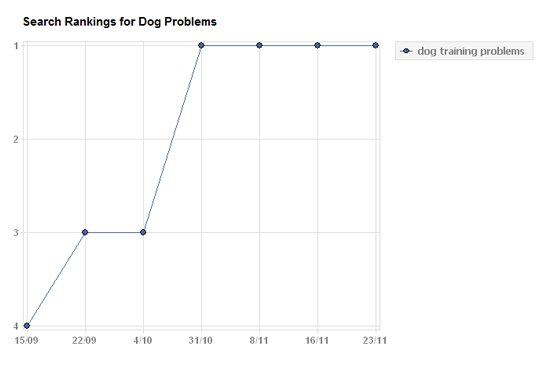 Note the dates along the bottom. This page didn't increase its ranking overnight. I took a matter of weeks to improve. SEO is like steering a battleship; it takes time to see the results of your changes. Nothing is instant.
Troubleshooting Rankings Tracking
Here are some solutions to common problems you might experience while tracking your rankings:
Pages are not ranking yet. It can take time for pages to get indexed by search engines and rank for keywords. Be patient, and focus on adding your content and building more links.

Algorithm changes: For the last couple of years, Google has implemented a number of changes to its search algorithm, which resulted in many websites plummeting in rank. As a rule, these changes were designed to weed out low-quality sites. So, if you focus on providing quality content and continue to build links, you should have nothing to worry about. However, if you see a large drop in rankings that doesn't bounce back, check and see whether an algorithm change has kicked in (just Google it).

Rankings not updating in real time. For a number of reasons Traffic Travis does not update rankings for your websites in real time. But really, there should be no need to check your ranking constantly anyway, as we've already talked about focusing on the long term.
Let's take a moment to recap what we've covered so far:
Import your website into Traffic Travis via the Dashboard to quickly check the important statistics.
Use the Rankings tool under the SEO panel of Traffic Travis for more in-depth data.
If you're just starting with a new site, your search engine rankings should be your primary metric.
Focus on the long-term trend, not short-term fluctuations.
Wishing you every success, until next time,
Traffic Travis
Did you know?
With the professional edition of Traffic Travis, you can monitor dozens of websites at any given time, as well as analyze your competition to get ahead of the pack. Whether you offer SEO and tracking services to clients, or you just want the most powerful insight possible into your websites, Traffic Travis Professional provides the solution you need.
What's more, with our 60-day refund policy, you don't risk a thing. If you aren't satisfied with Traffic Travis Professional, then you can get a full refund, no questions asked.
Traffic Travis Professional v4.0